Playing with Light
I was literally waiting for paint to dry for another set for a project and I was all set up for the shoot. Since we had a few minutes, I glanced around the studio and found a few props and then set these lovelies into the set. Wow. I just love when something so simple works. We do a ton of complex compositing which is fun and very rewarding but it does take planning, set up and finesse. So when I 'threw' these glasses in and they popped up on the screen I thought, 'Now that's nice just like it is!'




Martini Anyone?
Sharp shadows that look as much or more like the object than the object itself are kind of magic don't you think? I shot this series on an actual canvas so when I print them (I print all my fine artwork on our big Epson) they'll look naturally like the painting they were meant to be.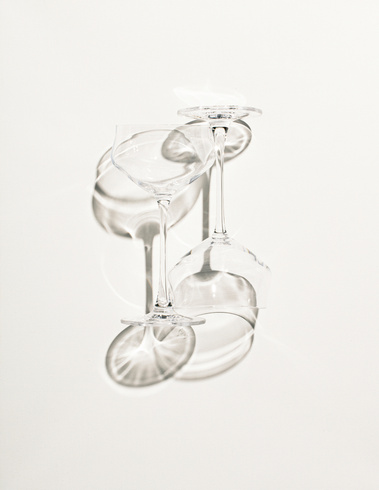 One More for the Road
Or maybe two? I spotted these babies on one of my regular prop shopping ventures. I can't resist popping into Home Goods, Pottery Barn or vintage and resale shops for a quick peek in between shoots. I found these just in time to bathe them in this new found lighting scheme. Yum!
Fifties Beaters are Our Heroes!
I was shooting an assignment using these 1930's to 1950's vintage hand beaters as props and they came alive! (Kind of like Toy Story, but it was all in my head, of course!). Seriously, though, each component in these images is shot separately and clipped with precision. In this way, all is malleable for type, crop, and usage ratios (please see below). We create many of our illustrative, conceptual images in this way so we can construct the image to our client's shoot brief and brand standards--tweaking the colors, position, shadows and, in this case, drips and splatters to perfection.
Take this 1940's beater. I knew it'd be getting down and dirty in a construction zone complete with brownie batter when we left the studio for the night. Beyond being necessary vintage elements for our ever evolving prop library (we're kind of obsessed), these beaters are perfect examples of powerful brand styling way before the advent of computer design software. We love using quirky and cool props and unique elements to build original imagery that speaks playfully and generates engagement naturally...
Then, there's this soldier--whipping up pancakes for the troops! And that's the way we LOVE to shoot food and bev. We see objects, products, ingredients and food as having their own life...their own energy and personality infused by design, branding and finishing with a tight, but flexible shoot brief. Here's to seriously shooting our fun Heroes, the Beaters!
(I mean what happens in the kitchen at night when we leave? Hmm...)












Conceptual Composi
tes:
Versatility in
Messaging
By shooting components individually, each image can be used in a variety of crops and placements dramatically increasing its usage scope. Mixing and matching elements adds to the energy and personality of the imagery increasing messaging and engagement.
All Images copyrighted Jim Spelman 2022